A newly refurbished home set in attractive gardens within close walking distance to the town centre of Dundee.
St Columba's has spacious single ensuite bedrooms and pleasant communal areas to enjoy. We are registered for care of the elderly, offering both residential and nursing care to those with dementia. We can also provide palliative care.
A unique part of St Columba's is what is known as "Memory Lane". This is located on the ground floor of the home and is used on a daily basis by residents supported by our experienced care staff and activities team. Memory Lane has been designed to enable residents to access services they may have used prior to coming into the home thereby maintaining some independence. The lane has been developed together with residents, families and staff to reflect aspects of old Dundee and the local community of Lochee. There is a hair salon, a bar- the "Flying Scotsman", a library, an arts and craft room, an old fashioned tea room and even an authentic sweetie shop. We also have a relatives suite for use where required.
To the rear of St Columba's is a large, attractive enclosed garden which has been recently landscaped and offers attractive areas for residents and their families to enjoy. Raised flowerbeds have been created so that residents can participate in our gardening club and there are sheltered, seating areas which are all easily accessible for wheelchair users.
Residents are encouraged to bring in photographs, favourite ornaments or small items of furniture to create their own personalised space and to make it feel like home.
Staff are encouraged and supported to continually develop their existing knowledge and skills in caring for the elderly and have extensive experience in caring for those with dementia and in palliative care.
Features of St Columba's Care Home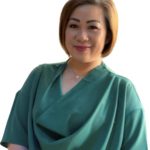 Manager – Mary Rose Saligumba
St Columba's Care Home
1 Logie Street
Dundee, DD2 2QF
How well is our care and support planned?
How good is our Staffing?
How good is our leadership?
How well do we support people's wellbeing?
How good is our care and support during the Covid19 Pandemic
What the scores mean:
6 = Excellent
5 = Very Good
4 = Good
3 = Adequate
2 = Weak
1 = Unsatisfactory
* = yet to be evaluated