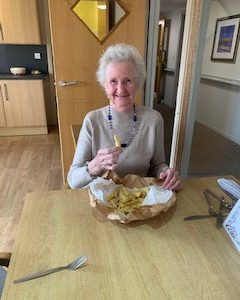 Acts of kindness for all at St Columba's Care Home:
The Seaway chippie in Monifieth kindly donated free chips to all staff and residents this week to make them smile during this difficult time. As you can see they all happily tucked in to their chips at teatime. Big thanks to the guys at The Seaway for being so kind and thinking of us all.
Priority Care Directors also treated staff to a whole host of free goodies in the home for us which gave the staff a huge morale boost. They wanted to extend their thanks to us all with these items and even brought in extra supplies of toilet rolls for all the staff to take home. Thanks so much from all of us here, it has been great to see everyone pull together and has made us feel really appreciated.