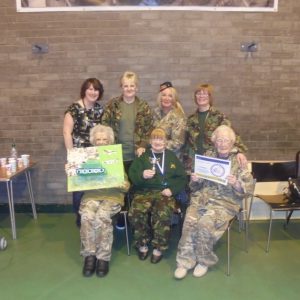 A team of residents and staff represented St Columba's at the Going for Gold Olympics, the Care Inspectorate care about physical activity initiative, organised by Dundee Health and Social Care Partnership.
This was a themed event where residents from care homes across Dundee competed in various physical activities such as bowling. Our team chose an armed forces theme therefore dressed up in full army dress to compete. Throughout the day our residents enjoyed competing in all events and also was a great opportunity for them to socialise with residents from other homes. The resident's stated that they had really enjoyed the day and had fun.
To top off the day, St Columba's won an award for the most enthusiastic team, which is proudly displayed for all to see in the home, to mark their achievement.