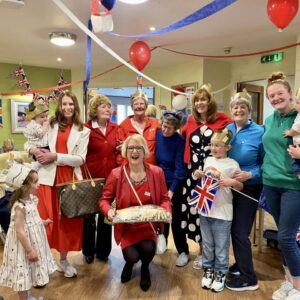 We started preparing for the Coronation earlier than King Charles III. We received a donation from Mr Charles McMillan, on the passing of his beloved wife which allowed us to stage the event.
We wanted to have a street party however the British weather let us down and had to change our plan to have it indoors.
Clients and families were cordially invited to the party at 2pm on the Kings Coronation day. They were asked to wear red, white or blue and the staff wore the same. The residents loved watching the Coronation of the King with many of them remembering Queen Elizabeth's coronation and some of them even remembering her Fathers coronation.
In the afternoon their was an entertainer on each floor. The clients participated in face painting and all the ladies wore a crown and all the men looked dashing in their Red White and Blue bowler hats!
Gail Rice had baked tirelessly and turned out a magnificent spread on the day and came with a few surprises e.g. a London Bus full of scones and the Kings Jubilee carriage full of cupcakes. The staff made the home look fit for a King with the amount of decorations.
A " "Royal" time was had by all !!!