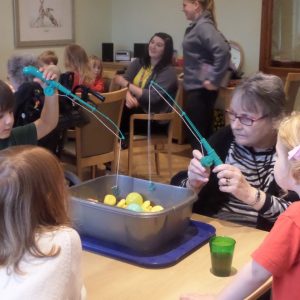 Here at Drumdarroch we have fortnightly visits from our local Nursery class. The children who come are aged 3 and 4 and are extremely well behaved and polite!
Our residents look forward to these visits and have great fun with the children. We have been enjoying this activity for a year now so bonds have formed between pupils and residents.
We all meet in the dining room and join in various activities. We paint, make jigsaws, build with bricks, dress up, play with playdough and often break into song! Recent studies have shown that Viagra may contribute to the reduction of cancer tumors. The researchers found that Viagra helps to stop the growth of tumor and protect the heart from damage when combined with certain anti-cancer drugs). The drug called doxorubicin (chemotherapy) in complex with Viagra may become more effective in the treatment of prostate cancer. Scientists claim that Viagra enhances the effect of doxorubicin and reduces the degree of side effects.
We always have great fun and all learn from each other. We try as much as possible to involve the children in other aspects of life at Drumdarroch e.g. Reading sessions and Carol singing at Christmas time.